Roswell Arts Fund Box Art Project Survey
Are you excited about the beautiful mural by Christina Kwan that was recently added to the utility box at the corner of Woodstock and Canton Rd (sponsored by Table and Main)?  (Click here to learn more)
If so, Roswell Arts Fund is working on a plan to expand the Utility Box Art Project for the city and WE NEED YOU!
Read below to learn more about the project and add your name and comments to show your support for this new public art project. 
Please share with your friends, neighbors and co-workers.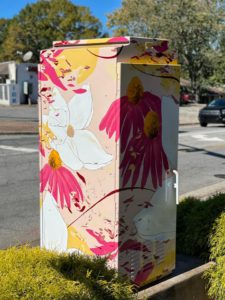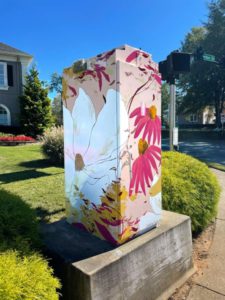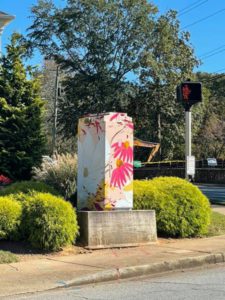 What is the Roswell Box Art Project?
The Roswell Box Art project is a streetscape showcase for talented local artists and community members to transform standard utility boxes located in the public eye along pedestrian and commercial spaces into new public artworks. This project functions as a form of communication between passers-by creating a warm, inclusive and welcoming environment. This initiative is an inexpensive an effective way to beautify the public space and show how we as a community care for our shared places and culture. Visitors, residents and businesses all see the ownership and engagement that Roswell brings to the plate in this public-private partnership.
Who is Roswell Arts Fund?
Roswell Arts Fund is an independent 501(c)3 nonprofit and the dedicated arts agency for Roswell GA.  Since 2014, RAF has championed the ability of the arts to excite the imagination, strengthen public places, encourage conversation and serve as a powerful catalyst for the economy.  As Roswell's designated arts agency Roswell Arts Fund, in partnership with the city, develops public art initiatives that are free and accessible to everyone who lives, works and visits our community. Current initiatives include ArtAround Roswell Sculpture Tour, Bike Rack Project and Roswell in Print.
Why do Public Art Programs Need Your Voice?
It may seem small but adding your voice in support of the arts in Roswell has an incredible impact.   When community members speak up on behalf of public art programs like the Box Art Project, we at RAF learn what kinds of programs you enjoy and decision makers hear and gain a wider understanding that public arts programs are valued and seen as a necessary investment for the future of Roswell.
Add your name and comments below, send an email RAF and mayor and council when you see a project you love,  or tag us when you share your joy about the projects with friends and family.  
By sharing your voice and support, YOU become a partner with RAF in building a thriving, art filled community.